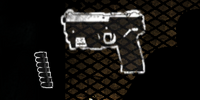 Tekna 9mm
The Tekna 9mm is the handgun with which Hayden begins the game. It is a reliable enough weapon, capable of dispatching standard Haz-Mat soldiers with a few body shots. It takes more shots to kill Riot Shield soldiers, however. The Tekna is especially weak against Chroma, Stingers, and later-stage Howlers, talking multiple full magazines to dispatch even one. The Tekna is, however, very accurate. Players can use the Tekna as a makeshift medium-range sniper, aiming for headshots, which usually kill instantly.
Some players may beat the game with an unupgraded Tekna as a badge of skill or pride.
Statistics
Edit
It is based on an H&K Mark 23 SOCOM, although in real life the Mark 23 is chambered in .45 ACP, not 9mm Parabellum.
Community content is available under
CC-BY-SA
unless otherwise noted.